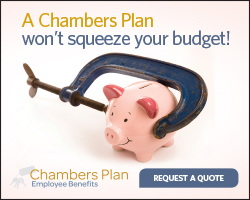 Membership is open to all business owners, clubs, organizations and interested individuals who want to help make a difference!
The membership application form can be found here.
Our fiscal year is October 1 – September 30. Our Annual General Meeting is held each October on the Thursday of Small Business Week.
Regular Membership is  $92.00
Associate Membership is $45.00
Our prefered method of payment is via Interac e-Transfer® using your participating bank, with our email address [email protected]. Learn more about Interac e-Transfer. Membership fees may also be paid by cheque.
A paid membership with VACC will get you a link to your own website from our business directory!
---
Why should I join the Chamber?
Check out this flyer for information on our current membership benefit programs.
In addition to the Chamber Members Benefits Program which includes health and dental plans custom fit to your business, gasoline and fuel discounts through major distributors, and many others, Valemount & Area Chamber of Commerce can offer:
A perfect place to meet other local business owners.
The Chamber of Commerce is often the first place of contact for those outside of Valemount, regarding new business opportunities and existing business enquirers.
The Chamber of Commerce is up to date on most business grants and loans available.
We frequently arrange seminars and workshops at low or no extra cost, to bring together members and experts from inside and outside of Valemount, to maximize all possibilities to enhance new and existing businesses.
We also play an important part in investigating complaints and advocate on behalf of the local business community if required.
Your local Chamber of Commerce works with other Chambers of Commerce in BC to stay informed on subjects and issues outside of Valemount, so we have the overall "big picture" of businesses to aid local decisions.
Your Chamber of Commerce can assist in organizing your Business after Business social
Membership in a Chamber of Commerce provides businesses an influential avenue to voice their ideas for economic improvement in their community. A large membership contributes to a stronger Chamber, and that can affect a more positive impact on decisions made toward attracting investment into the area.
Your Chamber of Commerce can be influential in the development of policies at provincial and federal levels
Additionally as a member of the Chamber of Commerce, your small business may be eligible for awards.
Adding/Updating your Business Listing
Click here for a step-by-step guide on adding/updating your online business listing.